Exhibit 99.1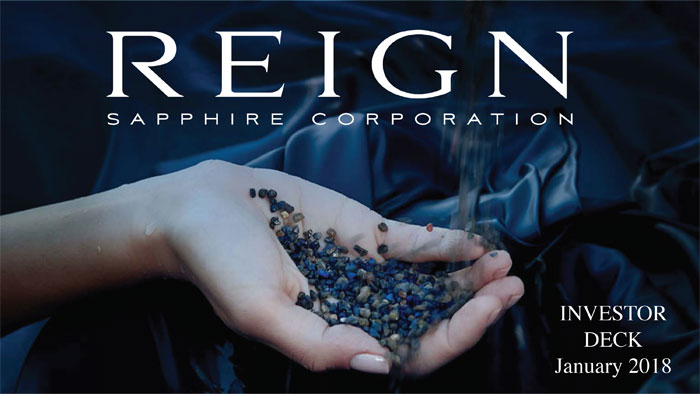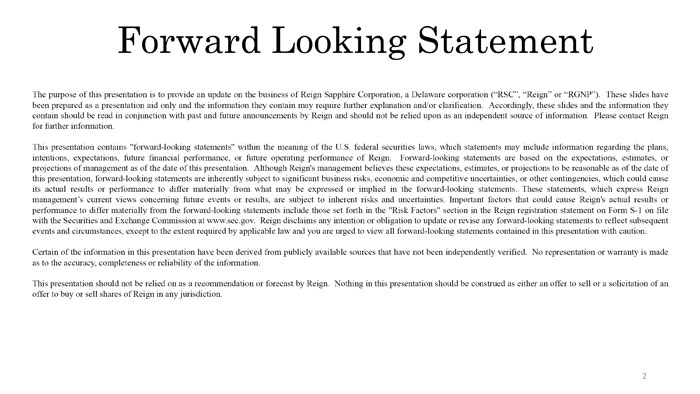 Forward Looking Statement
The purpose of this presentation is to provide an update on the business of Reign Sapphire Corporation, a Delaware corporation ("RSC", "Reign" or "RGNP"). These slides have been prepared as a presentation aid only and the information they contain may require further explanation and/or clarification. Accordingly, these slides and the information they contain should be read in conjunction with past and future announcements by Reign and should not be relied upon as an independent source of information. Please contact Reign for further information.
This presentation contains "forward-looking statements" within the meaning of the U.S . federal securities laws, which statements may include information regarding the plans, intentions, expectations, future financial performance, or future operating performance of Reign. Forward-looking statements are based on the expectations, estimates, or projections of management as of the date of this presentation. Although Reign's management believes these expectations, estimates, or projections to be reasonable as of the date of this presentation, forward-looking statements are inherently subject to significant business risks, economic and competitive uncertainties, or other contingencies, which could cause its actual results or performance to differ materially from what may be expressed or implied in the forward-looking statements. These statements, which express Reign management's current views concerning future events or results, are subject to inherent risks and uncertainties. Important factors that could cause Reign's actual results or performance to differ materially from the forward-looking statements include those set forth in the "Risk Factors" section in the Reign registration statement on Form S-1 on file with the Securities and Exchange Commission at www.sec . gov . Reign disclaims any intention or obligation to update or revise any forward-looking statements to reflect subsequent events and circumstances, except to the extent required by applicable law and you are urged to view all forward-looking statements contained in this presentation with caution.
Certain of the information in this presentation have been derived from publicly available sources that have not been independently verified. No representation or warranty is made as to the accuracy, completeness or reliability of the information.
This presentation should not be relied on as a recommendation or forecast by Reign. Nothing in this presentation should be construed as either an offer to sell or a solicitation of an offer to buy or sell shares of Reign in any jurisdiction.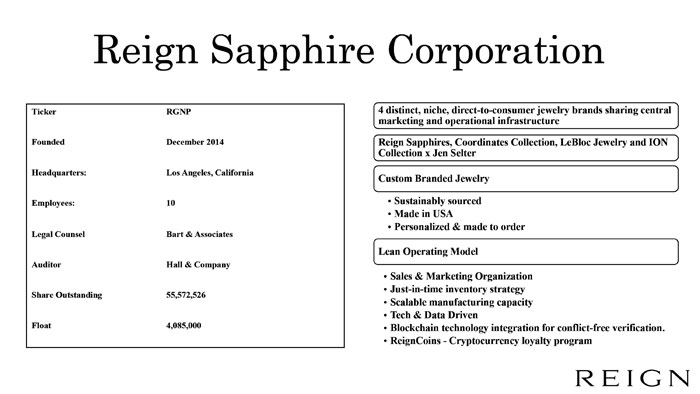 Reign Sapphire Corporation Ticker RGNP Founded December 2014 Headquarters: Los Angeles, California Employees: 10 Legal Counsel Bart & Associates Auditor Hall & Company Share Outstanding 55,572,526 Float 4,085,000 4 distinct, niche, direct-to-consumer jewelry brands sharing central marketing and operational infrastructure Reign Sapphires, Coordinates Collection, LeBloc Jewelry and ION Collection x Jen Selter Custom Branded Jewelry • Sustainably sourced • Made in USA • Personalized & made to order Lean Operating Model • Sales & Marketing Organization • Just-in-time inventory strategy • Scalable manufacturing capacity • Tech & Data Driven
• Blockchain technology integration for conflict-free verification. • ReignCoins - Cryptocurrency loyalty program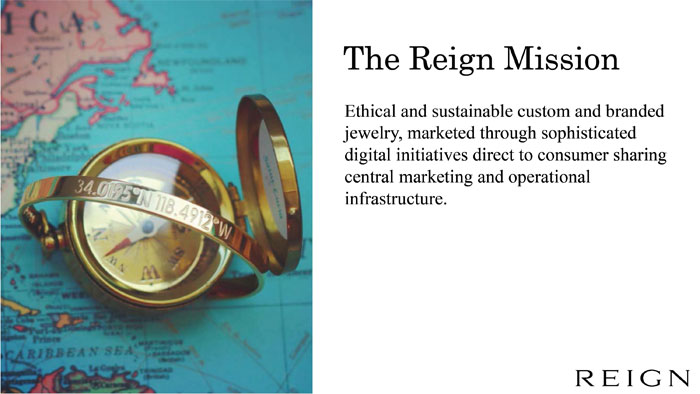 The Reign Mission
Ethical and sustainable custom and branded jewelry, marketed through sophisticated digital initiatives direct to consumer sharing central marketing and operational infrastructure.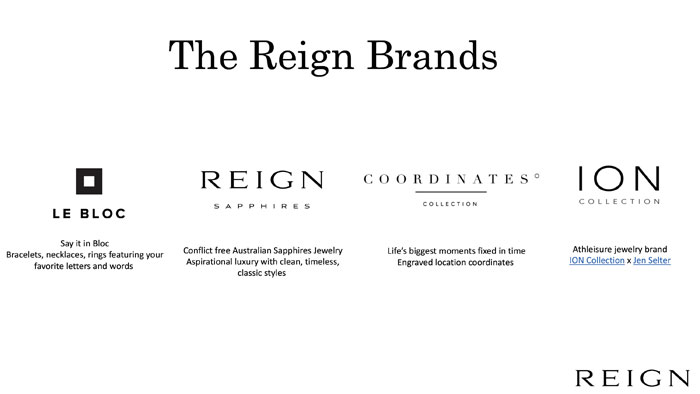 The Reign Brands Say it in Bloc Conflict free Australian Sapphires Jewelry Life's biggest moments fixed in time Athleisure jewelry brand Bracelets, necklaces, rings featuring your Aspirational luxury with clean, timeless, Engraved location coordinates ION Collection x Jen Selter favorite letters and words classic styles
Lean Operating Model Reign's sales model builds and ships finished goods quickly Direct to consumer Low inventory Made to order Reign's sourcing model keeps expenses linked to order flow Just in Time Delivery Raw material expenses based only on current order volume No long duration commodity risk Production is variable based on demand Flexible production scheduling Capacity scalable 500% without increasing overhead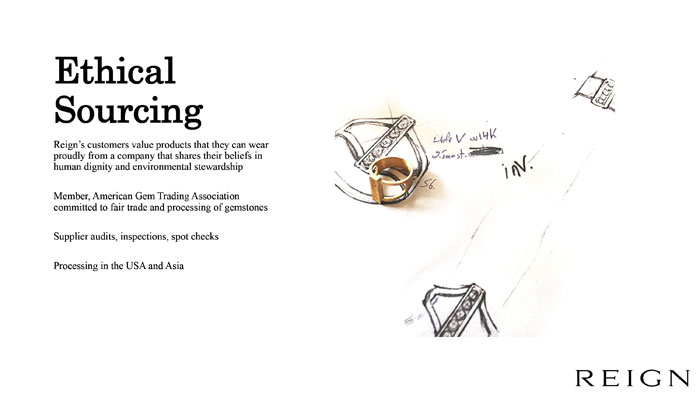 Ethical Sourcing Reign's customers value products that they can wear proudly from a company that shares their beliefs in human dignity and environmental stewardship Member, American Gem Trading Association committed to fair trade and processing of gemstones Supplier audits, inspections, spot checks Processing in the USA and Asia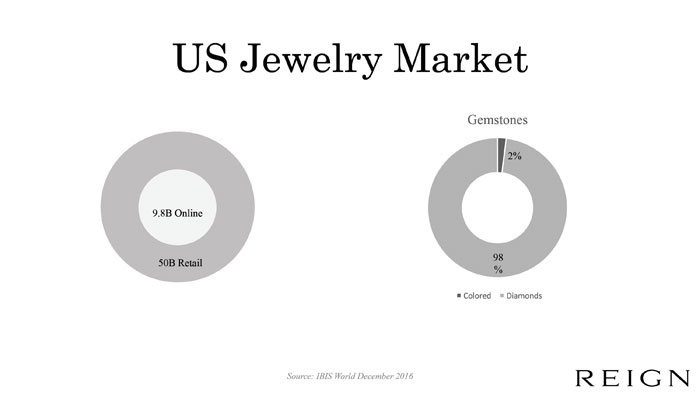 US Jewelry Market Gemstones 2% 9.8B Online 98 50B Retail % Colored Diamonds Source: IBIS World December 2016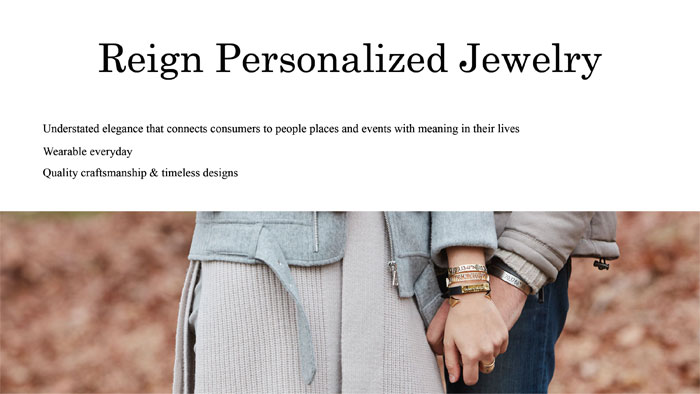 Reign Personalized Jewelry Understated elegance that connects consumers to people places and events with meaning in their lives Wearable everyday Quality craftsmanship & timeless designs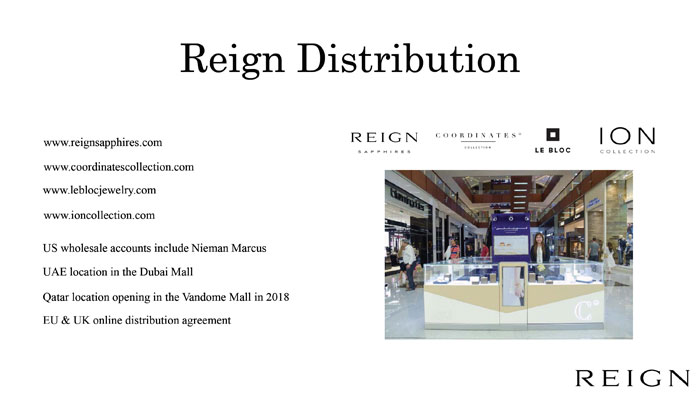 Reign Distribution www.reignsapphires.com www.coordinatescollection.com www.leblocjewelry.com www.ioncollection.com US wholesale accounts include Nieman Marcus UAE location in the Dubai Mall Qatar location opening in the Vandome Mall in 2018 EU & UK online distribution agreement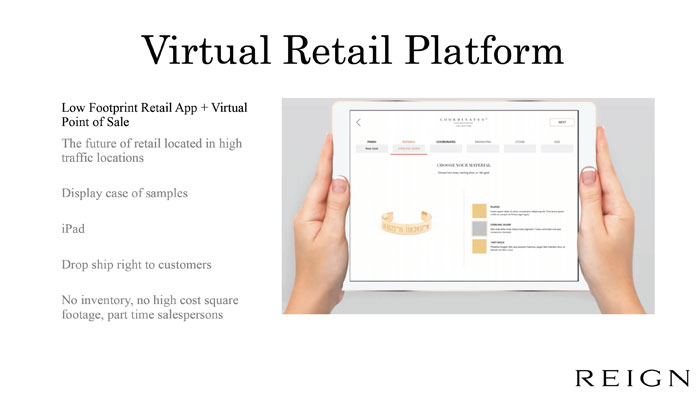 Virtual Retail Platform Low Footprint Retail App + Virtual Point of Sale The future of retail located in high traffic locations Display case of samples iPad Drop ship right to customers No inventory, no high cost square footage, part time salespersons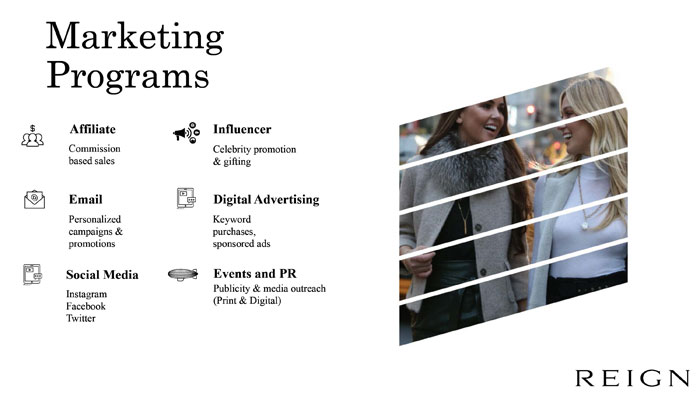 Marketing Programs Affiliate Influencer Commission Celebrity promotion based sales & gifting Email Digital Advertising Personalized Keyword campaigns & purchases, promotions sponsored ads Social Media Events and PR Publicity & media outreach Instagram (Print & Digital) Facebook Twitter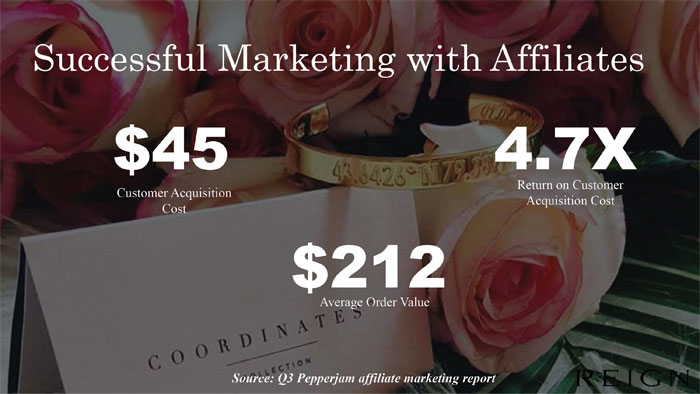 Successful Marketing with Affiliates $45 4.7X Return on Customer Customer Acquisition Acquisition Cost Cost $212 Average Order Value Source: Q3 Pepperjam affiliate marketing report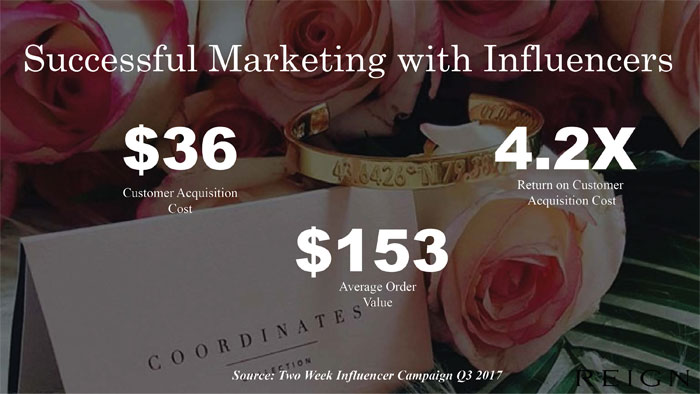 Successful Marketing with Influencers $36 4.2X Return on Customer Customer Acquisition Acquisition Cost Cost $153 Average Order Value Source: Two Week Influencer Campaign Q3 2017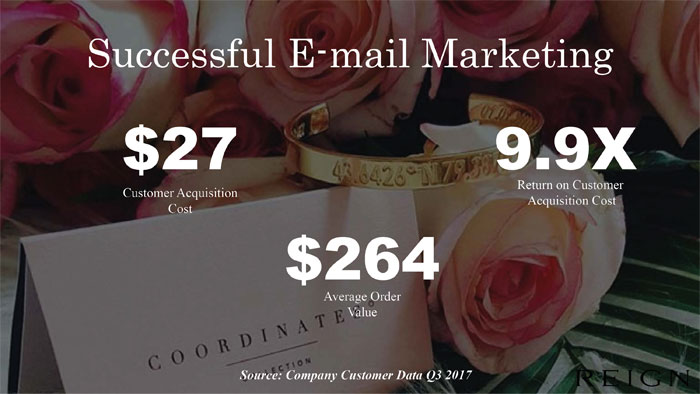 Successful E-mail Marketing $27 9.9X Return on Customer Customer Acquisition Acquisition Cost Cost $264 Average Order Value Source: Company Customer Data Q3 2017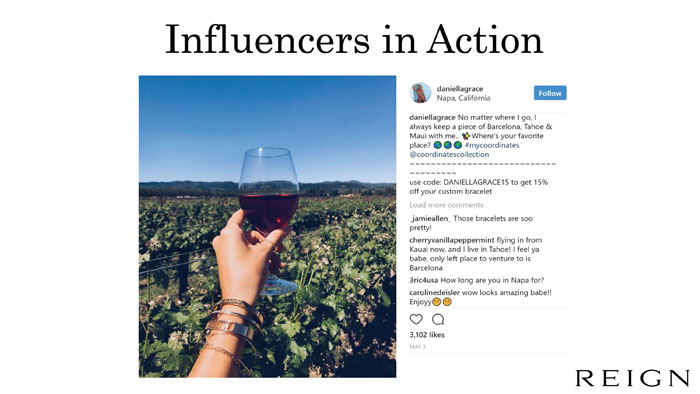 Influencers in Action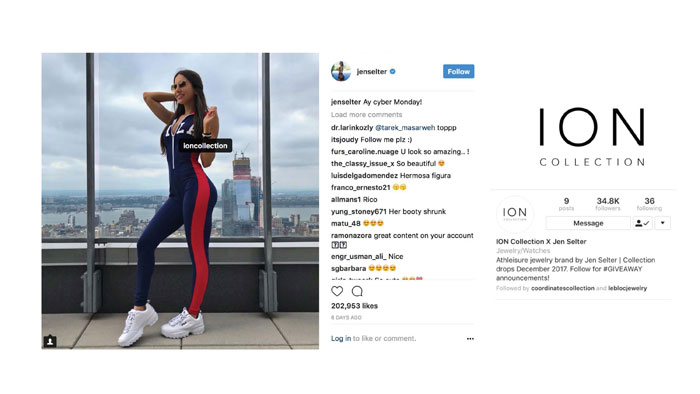 Sample E-mail Campaign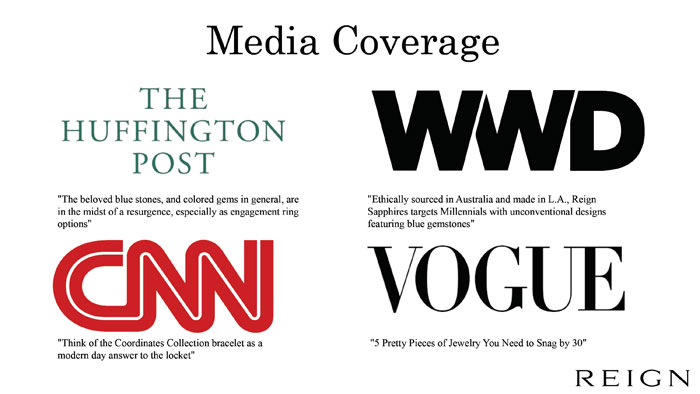 Media Coverage "The beloved blue stones, and colored gems in general, are "Ethically sourced in Australia and made in L.A., Reign in the midst of a resurgence, especially as engagement ring Sapphires targets Millennials with unconventional designs options" featuring blue gemstones" "Think of the Coordinates Collection bracelet as a "5 Pretty Pieces of Jewelry You Need to Snag by 30" modern day answer to the locket"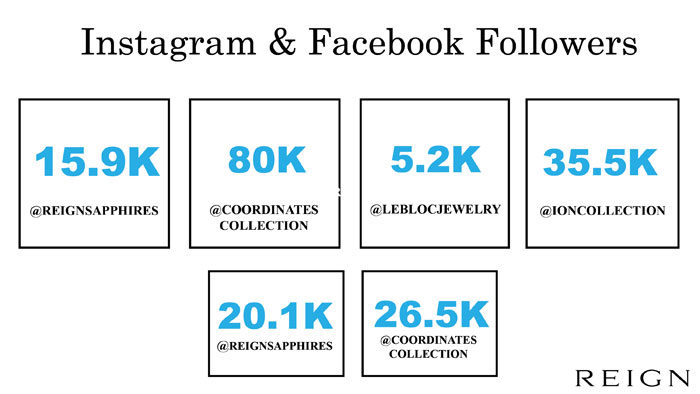 Instagram & Facebook Followers 15.9K 80K 5.2K 35.5K @LEBLOCJEWELRY @REIGNSAPPHIRES @COORDINATES @LEBLOCJEWELRY @IONCOLLECTION COLLECTION 20.1K 26.5K @COORDINATES @ REIGNSAPPHIRES COLLECTION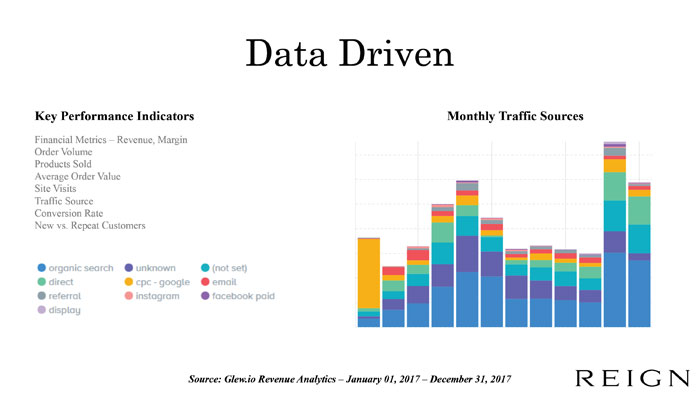 Data Driven Key Performance Indicators Monthly Traffic Sources Financial Metrics – Revenue, Margin Order Volume Products Sold Average Order Value Site Visits Traffic Source Conversion Rate New vs. Repeat Customers Source: Glew.io Revenue Analytics – January 01, 2017 – December 31, 2017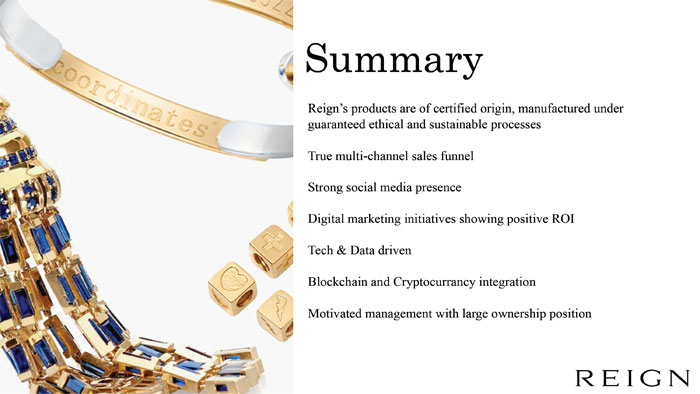 Summary Reign's products are of certified origin, manufactured under guaranteed ethical and sustainable processes True multi-channel sales funnel Strong social media presence Digital marketing initiatives showing positive ROI Tech & Data driven Blockchain and Cryptocurrancy integration Motivated management with large ownership position